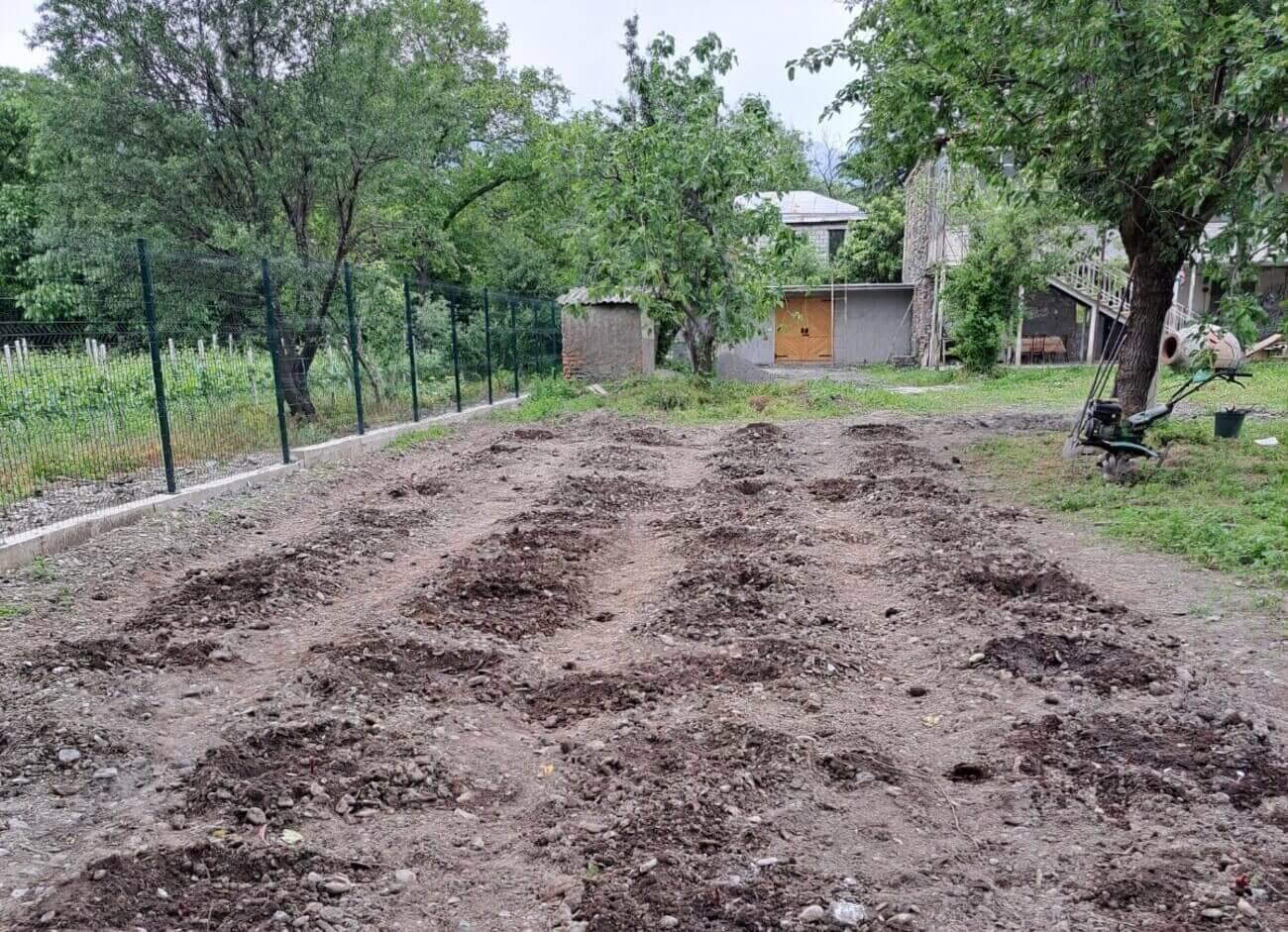 New vineyard with rare varieties planted
Directly in front of our wine cellar we have planted a new vineyard with a total of 60 vines. Some of the varieties are extremely rare. You have the possibility to sponsor one or more vines and enjoy a bottle of your own vine after about four years.
In our new small vineyard, located just in front of our Marani in Eniseli, we planted the rarities Mirzaanuli Tetri, Ikaltos Tsiteli, Akhmeturi Tsiteli and Bodburi Chitistvala, as well as Kakhuri Mtsvane and table grapes of the Sasupre Goruli variety.
Revive forgotten grape varieties
On the one hand we want to give new life to rare and forgotten grape varieties, on the other hand we want to make wine experiments with these endemic and exciting grapes. You can experience this adventure from the very beginning and up close, with a vine sponsorship.
Grape varieties that only a few people know
The variety Kakhuri Mtsvane (green Kakhetian) is rather widespread, and variety Sasupre Goruli we will use as table grapes. However, the other four grape varieties are real rarities, which hardly anyone outside the Georgian winemaking scene knows.
Georgian: მირზაანული თეთრი
Synonyms: Mirzaanuli
Origin: Mirzaani, Kakheti
Type: white
Description: Dry wine, color range from white to light straw
Georgian: ჩიტისთვალა ბოდბური
Synonyms: Bodbis Chitistvala
Origin: Bodbe, Kakheti
Type: white
Description: The name means bird's eye from Bodbe. The wine is dry and white.
Georgian: ახმეტური წითელი
Synonyms: Akhmeturi Shavi, Akhmetis Tsiteli
Origin: Akhmeta, Kakheti
Type: red
Description: The name means Red Akhmetian (Akhmeta is a townlet in Kakheti). Dry red wine.
Georgian: იყალთოს წითელი
Synonyms: Ikaltos Shavi
Origin: Ikalto, Kachetien
Type: red
Description: It means Red from Ikalto (Ikalto is a monastery in Kakheti). Dry red wine from rather mediocre quality, often used for blends.
Georgian: კახური მწვანე
Synonyms: მწვანე
Origin: Kakheti
Type: white
Description: The name means Green Kakhetian. This variety is more widespread than the other four. The grapes are used for the Manavi and Tsinandali wines (Denomination of Protected Origin).
Get your personal vine and your exclusive wine
Are you interested in seeing how our vines develop from planting on May 19, 2023, through the first harvest to the first wine? With a vine sponsorship, you can be up close and personal. Secure the vine of your choice and receive regular updates, photos and videos. After four years, we will press the first wine from the grapes of your vine and you will exclusively receive your personal bottle.
A vine of the variety Akhmeturi Tsiteli, planted on 19 May 2023.